Announcements
---
The Farmers' Market is now open Saturdays!
Hours: 9 a.m. to 2:00 p.m.
As the COVID-19 Guidelines are becoming less restrictive as we move into Phase 4 of the Michigan Safe Start Plan, the Holt Farmers Market has revised our guidelines to reflect those changes below.
We will continue to make these changes as the COVID-19 Guidelines change.
It is our sincere hope that by implementing the following operational changes we can keep everyone safe and continue to stop the spread of COVID-19. Your patience and cooperation are much appreciated.
Face Masks:

ALL customers, Holt Farmers Market vendors and employees will be required to wear a face mask INSIDE the market. Masks must cover the mouth and nose and remain on at all times.
Social Distancing:

Customers are asked to maintain social distancing while shopping inside and on market property.
Hand Sanitizer:

Hand sanitizer will be available throughout the shopping area for use by customers, vendors and employees.
Building Capacity and Children (under 16 years of age):

The number of shoppers inside the market will continue to be limited. Groups of up to four (4) will be allowed. CHILDREN ARE ALLOWED INSIDE THE MARKET ONLY WHEN ACCOMPANIED BY AN ADULT.
 Children must stay with the adult AT ALL TIMES.
Customer Flow:

There will be one entrance into the market (north side of the building) and one exit (south side of the building). Customers will move in a one-way direction once inside the market and will follow directional
signage and maintain social distancing.
Shopping Only:

While we all enjoy the opportunity to socialize, during this pandemic the market is OPEN FOR SHOPPING ONLY. Customers and vendors are asked to keep socialization to a minimum in consideration of others.

Customers are discouraged from using cash – debit/credit is preferred. CUSTOMERS WILL NOT BE ALLOWED TO CONSUME FOOD OR DRINKS while inside the market. Please note that picnic tables, public
restrooms and the drinking fountain WILL NOT BE AVAILABLE FOR CUSTOMER USE.
We are anxious for the time when COVID-19 no longer requires us to take these precautions. Until then, please shop local and stay healthy!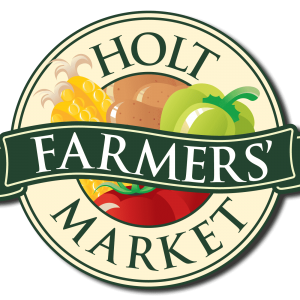 Vendor Spotlight
Ben's Custom Treat's specializes in hand poured and crafted chocolate goodies.
...Continued
Opening Hours
Saturdays, 9am-2pm
Mini-Markets
Fridays, 2pm-6pm
Winter Market Season
January-April
Regular Market Season
May-November
Upcoming Events
The Holt Farmers Market hosts a number of musical entertainers and events throughout the year. See the list below for upcoming events or click the button to see all of our scheduled events for the year.
July 7, 2021

- Food Frenzy

August 11, 2021

- Food Frenzy

September 8, 2021

- Food Frenzy
Why we love the market!
"
Great place for fresh veggies. Breads, salsa, check the place out.
"
I loved the prices, the friendly staff and everything is so fresh!
"
Great farmers market with lots of fresh produce, delicious food, great food trucks, and cool/unique gifts for everyone.