Oven Roasted Red Potatoes & Asparagus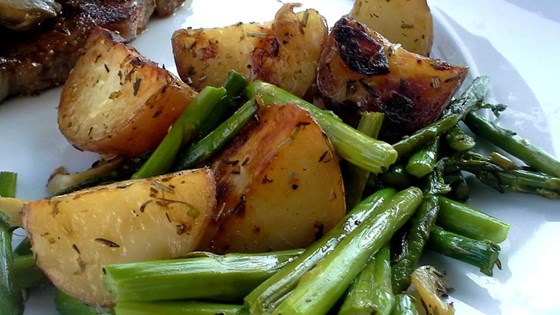 Roasting brings a whole new flavor to fresh asparagus. It teams with red potatoes and seasonings to create a worthy accompaniment to any main dish.
1 1⁄2 lbs red potatoes, cut into chunks
2 T extra virgin olive oil
8 cloves garlic, thinly sliced
4 t dried rosemary
4 t dried thyme
2 t kosher salt
1 bunch fresh asparagus, trimmed and cut into 1 inch pieces
Ground black pepper to taste
Preheat oven to 425 degrees
In a large baking dish, toss the red potatoes with 1/2 the olive oil, garlic, rosemary, thyme, and 1/2 the kosher salt. Cover with aluminum foil.
Bake 20 minutes in the preheated oven. Mix in the asparagus, remaining olive oil, and remaining salt. Cover, and continue cooking 15 minutes, or until the potatoes are tender.
Increase oven temperature to 450 degrees. Remove foil, and continue cooking 5 to 10 minutes, until potatoes are lightly browned. Season with pepper and serve.